SAVE $200.00 Used Demo
This Is Your Edge
The touchscreen Edge 810 is designed for the cyclist who wants it all — navigation and advanced training capabilities in 1 device. Connected features¹ through your smartphone include live tracking, social media sharing and weather. The 810 is compatible with optional detailed street or TOPO maps, so it can guide you during touring, commuting or other activities requiring onboard maps and navigation. Because it's GPS-enabled, Edge 810 provides accurate data and navigation capabilities, anywhere in the world.
Track Every Detail
In addition to mapping, Edge 810 records distance, speed metrics, ascent/descent, grade and more. It's also compatible with ANT+® sensors that measure heart rate², speed/cadence² and power³. Activity profiles let you customize data fields and device settings based on cycling activity, such as road, mountain or touring. Switch profiles with a simple swipe of the touchscreen and the 810 will be set up to show the data for that ride.
Get Connected
Edge 810 offers a suite of connected features when paired with your smartphone (iPhone or Android™) and the Garmin Connect™ Mobile app. Get comprehensive, accurate ride data from a dedicated device, while saving your phone battery. Edge tracks the data and sends it to your phone using Bluetooth®. Stay connected and share all the details of your ride with friends, family and social media. Post an update immediately after your ride or race. Create the posts via your smartphone, and the ride data's already there, thanks to the interface with Garmin Connect Mobile.
Cycling Dynamics
When paired with a dual-sensing Vector™ power meter, Edge 810 now displays our revolutionary Cycling Dynamics metrics and are included in Garmin Connect™ for post ride analysis. These metrics measure where the power is being applied throughout the pedal stroke, and where on the pedal it is being applied, allowing the cyclist to understand his or her particular way of riding. The Seated/Standing metric will follow in early 2015.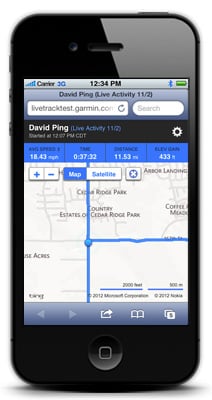 Live Tracking
Live Tracking lets friends and family follow your races and training activities in real time. Invite followers using email or social media, and they can view your live data on Garmin Connect. Once they get your email invite, they can follow and see your stats and location on the map.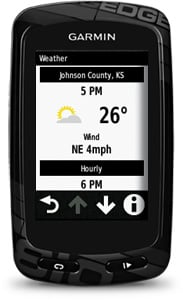 Weather
Get real-time weather conditions, forecasts and alerts (in areas with coverage) directly on the Edge 810 when paired with a smartphone and the Garmin Connect Mobile app. Your smartphone stays safe and dry, while the weather data you need is right at your fingertips.
Wireless Data Transfers
Instantly store, share and analyze every detail of your ride. Using Garmin Connect Mobile, you can wirelessly upload completed activities from your device as soon as you are finished. Activities can be automatically or manually uploaded. Once your ride has posted to Garmin Connect, your own "connections" can view them. You can also search your courses and workouts4 stored at Garmin Connect, download to your smartphone, then send directly to your Edge 810 — wirelessly. You can then navigate to the start of the course and use the Virtual Partner® feature on your Edge to race your previous activities in real time.
Shimano Di2 Integration
Like the Edge 1000, the Edge 810 now integrates with Shimano Di2 shifting systems5 to display your current gear on the screen. We've also expanded the integration capabilities for those Edge users with compatible Shimano Dura Ace Di2 systems by allowing them to directly control their Edge from the small buttons inside the brake hoods.
Segments
Similar to the Edge 1000, the Edge 810 now include segments. Cyclists can turn every ride into a race by competing on Garmin Connect segments and seeing real-time results, including alerts for segment start/finish and leaderboard rankings.
Edge Remote Integration
Control your Edge 810 without removing your hands from the handlebar. The 3-button Edge remote uses ANT+ wireless connectivity to mark laps and scroll through pages. You can even program the third button.
Edge 810 In the box.

Edge 810
Bike mount
USB cable

General

PHYSICAL DIMENSIONS
2.0″ x 3.7″ x 1.0″ (51.0 x 93.0 x 25.0 mm)
TOUCHSCREEN
DISPLAY SIZE
1.4″ x 2.2″ (36.0 x 55.0 mm); 2.6″ diag (66.0 mm)
DISPLAY RESOLUTION
160 x 240 pixels, touchscreen
WEIGHT
3.5 oz (98.0 g)
BATTERY
rechargeable lithium-ion
BATTERY LIFE
up to 17 hours
WATER RATING
IPX7
COLOR DISPLAY

Maps & Memory

ABILITY TO ADD MAPS
BASEMAP
MEMORY STORAGE AND POWER CAPACITY
microSD™ card (some versions include a City Navigator microSD card)
WAYPOINTS/FAVORITES/LOCATIONS
200
ROUTES
Limited by memory space available
HISTORY
up to 180 hours

Sensors

GPS
BAROMETRIC ALTIMETER

Training, Planning and Analysis Features

CUSTOMIZABLE DATA PAGES
AUTO PAUSE®
INTERVAL TRAINING
ADVANCED WORKOUTS
AUTO LAP®
VIRTUAL PARTNER
AUTO SCROLL

Cycling Features

ALERTS (TRIGGERS ALARM WHEN YOU REACH GOALS INCLUDING TIME, DISTANCE, HEART RATE OR CALORIES)
COURSES
POWER METER COMPATIBLE
yes_(records_data_approx._1_per_second)

Additional

ADDITIONAL
Operating temp: -20°C to +55°C

Connected features via a smartphone: yes

GLONASS: no

Compatible with Garmin Connect™ Mobile: yes